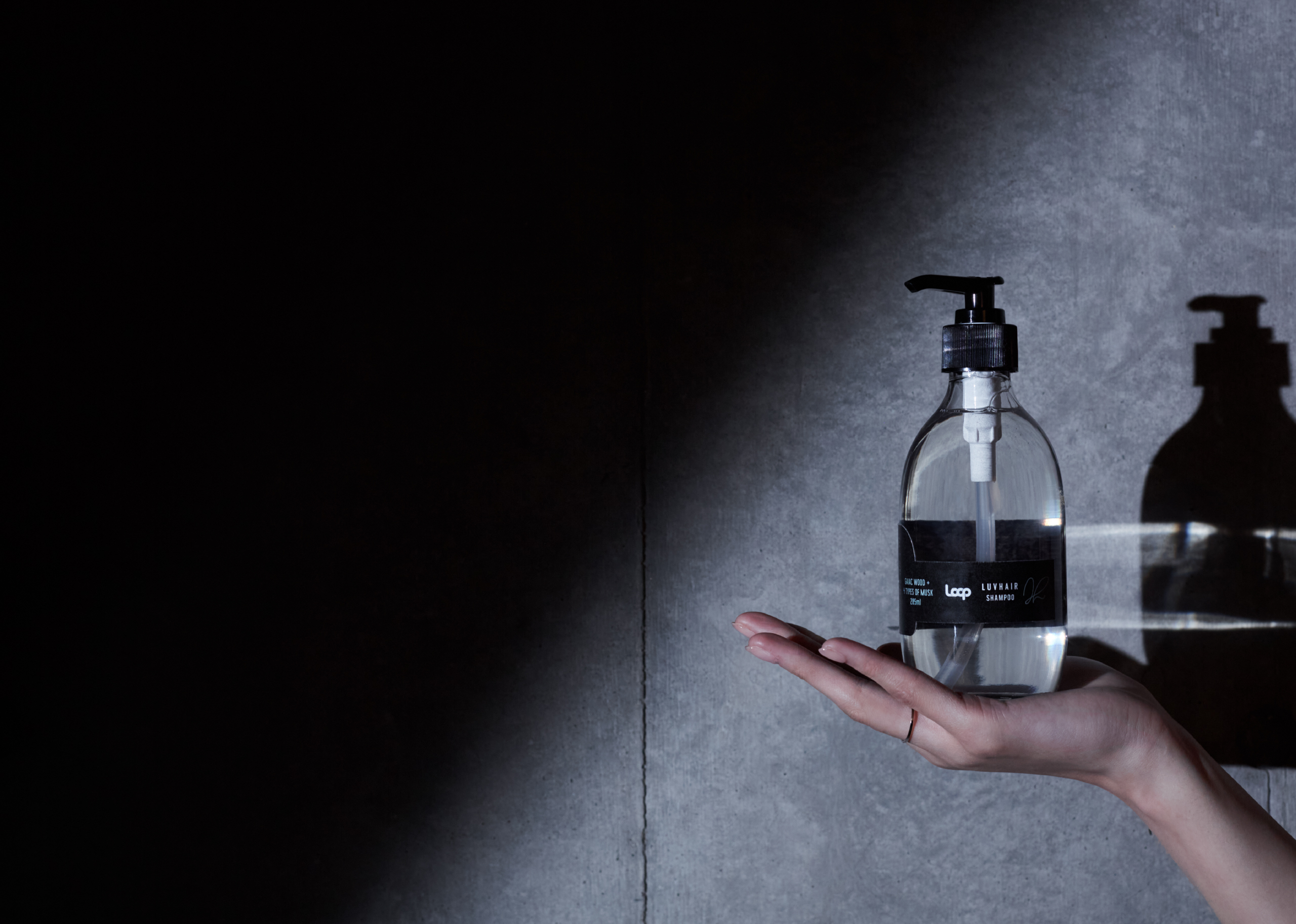 ABOUT
大事な人に、
そして自分に、

愛される髪へ
For your loved ones, and yourself—
for beloved hair.
一人ひとりのヘアスタイルは
自己表現に欠かせない要素です。
忙しい現代人だからこそ
多くの選択肢の中から選ぶ重要な基準は、
品質の高さだけでなく
「自己を大切にできる」ということ。
まろやかな泡立ちとサラッとまとまる質感。
他の邪魔をしない、上質で繊細な香り。
素髪のような美しさを引き出すヘアケアで、
大事な人はもちろん、自分自身にも、愛される髪へ。
Each individual's hairstyle is an essential element for self-expression.
In modern times we are busy people.
Amongst the infinite hair-care options today, it is important to not only be able to choose quality, but also the option of self-care.
Mild foam and silky texture.
A fine and delicate fragrance that doesn't interfere with other products.
Hair-care that brings out the bare beauty of your hair.
Hair that is loved not only by the people you care about, but also by yourself.
地球は美しい
The Earth is Beautiful.
使い捨て容器から
耐久性のある機能的な容器のリユースへシフトする、
循環型のショッピングプラットフォーム「Loop」。
LUVHAIRは「Loop」に参加しています。
「Loop」ではこれまで使い捨て容器で販売されていた製品を
リユース可能な容器に置き換え、使用済み容器を回収し、
洗浄・製品の再充填を行い再販することで、
「捨てる」という概念を新たな消費の形に置き換えていきます。
地球に優しいということは、
周り回って自分に優しいということだと
LUVHAIRは考えています。
美しい地球のために、エコな生活を送りたいと考える。
そんなあなた自身も、地球を形造る大切な一部。
サスティナブルな「消費」の形から始めることで、
地球に、そして自分自身に優しい未来へ。
Making a shift from disposable containers to reusing durable and functional containers.
LUVHAIR is partners with Loop,
Loop is a recycling-oriented zero-waste shopping platform.
In "Loop", products that were previously sold in disposable containers
Replace with reusable containers, collect used containers,
By cleaning, refilling the product, and reselling it,
We will replace the concept of "discarding" with a new form of consumption.
LUVHAIR believes that being kind to the earth means being kind to yourself in turn.
You want to lead an eco-friendly life for the sake of our beautiful planet.
Every single one of us are an imperative part of shaping the earth.
By starting with a sustainable way of consumption,
we can create a future that is kind to the earth and to ourselves.